Take the most comfortable, perfect fit running shoes, but wear them with the wrong socks underneath. Chances are big that you will suffer from painful blisters, nail damage or other foot issues. It is essential to choose good quality running socks that offer protection and comfort where we need it. This will help us focus on the run, without any distractions or interruptions due to discomfort to our feet and toes. This product review may be useful to get more insights on "Falke RU4 running socks", which I consider very good 'all-rounders', that will suit many runners.
Specs of Falke RU4 running socks
Moisture wicking material (40% Cotton, 40% Polypropylene, 20% Polyamide)
Medium all round padding (cushioning)
Anatomically shaped for left and right foot
All regular male and female shoe sizes
Various fashionable mono-colours and combi-coloured designs
Several shaft lengths: no show/invisible, ankle high and calf high
Silicone threads on the inside to prevent the sock from slipping
Machine wash and hang dry
Why I chose Falke RU4?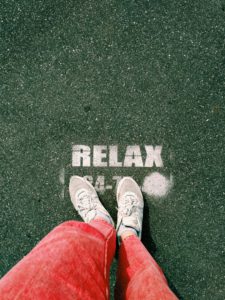 When I just started running, I only owned 100% cotton socks in matching colours to my sports wear and running shoes.  I thought cotton was the best for sweat absorption and I assumed that, compared to synthetic fabrics, cotton would offer the best protection against bad odors. I ended up with blisters, painful toes and areas with excess of callus. Time for new running socks. Out of the many sock options there are, I decided to choose a pair of 'all round running socks':
Falke type RU4 : white & grey coloured – no show invisible shaft – medium padding
They stayed in place and I never suffered from blisters anymore. I didn't even feel them during my runs. My problem was solved! But as my weekly mileage increased though, my feet were under pressure for longer duration. Therefor I bought for my 15k+ runs socks with thicker padding for a stronger cushioning effect underneath my heel and extra protection at the toe box. But most of my training sessions are under the 15km, so still I mainly wear my Falke RU4's, as they do what they should do!
To my opinion my Falke R4 running socks (invisible/no show shaft and medium padding) offer me the protection and comfort where I need it most. Check out the overview of all pros & cons: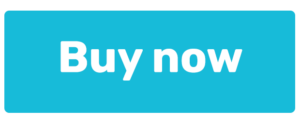 Reasons to wear Falke RU4 running socks (invisible shaft &  medium padding)
As the fabric is thin, soft and stretchy, the socks feel like a second skin. Very nice and comfortable.
They are anatomically shaped for the left and right foot and have a bit of stronger support around the middle foot. They don't shift or wrinkle up while running and there is no thickened seem on the inside. There is no friction on bare skin, which helps to avoid blisters.
The foot temperature is well regulated.  I never experienced overheated or swollen feet during my runs in warm weather. For real hot days I might opt for the Falke socks with cooling effect.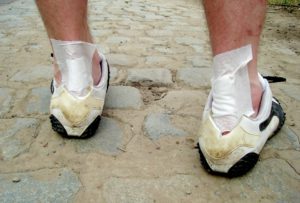 The moisture wicking fabric moves sweat and rain quickly to the outside of the material. I have never suffered from blisters due to this.
The odor resistant fabric is really useful when you suffer from sweaty feet.
The medium padding offer good protection and cushioning in high-stress areas like toe edges, bunions and heels up to 15km.
I prefer to wear the socks with an invisible shaft in a moderate or warm weather conditions. The whole foot, including the ankle and the top of the arch, is fully covered, so there is no rubbing areas between shoes and skin. Only the anti slip part is peeking out of rear side of the shoe. The sock doesn't roll down into the shoe during the workout and stays in place.
Falke socks are very good, long-lasting quality socks.  I've worn my Falke RU4 runners socks at least once a week for the last three years. After usage, I machine wash them and although it is recommended to air dry them, I always put them in the drying machine. The softness and stretchy feel of the fabric hasn't changed much and the colours haven't faded away either. The padding still feels the same as when they were brand new. I haven't discovered any holes or thinning of the material at the toe box or around the heel.
Falke RU4 are good quality running socks that are worth the money. They do what they promise and they last long.
Disadvantages Falke RU4 Running socks (invisible shaft & medium padding)
Medium padding feels too light for long runs. I personally could use a stronger cushioning effect after 15k. For high duration runs I'd rather choose Falke socks – type RU3, which have thicker padding.
Invisible shaft height may not be ideal for all seasons and weather conditions. On a cold winter's day I find the sock not warm enough, as they are a bit too thin for me and the invisible/no show shaft height feels too short to protect the ankles and lower parts of the calves against cold wind. For outdoor runs during winter I prefer to wear knee-high running socks with thicker padding.
Overall rating of the Falke RU4 running socks: 5 stars!
My Falke RU4 running socks feel very comfortable, stay in place and don't cause any blisters or other foot issues to me.  Given their anatomic shape and quality of the material and all the benefits that I mentioned, I am overall very positive about the Falke RU4 running socks.
More Fun 2 Run Overall Rating:
Falke brand offers a wide range of running socks
When you are looking for good quality running socks, have a closer look at the variety of Falke products. There is a wide range of running sock types for men, women and kids in several shaft heights, colours, thickness of padding and types of materials. They even have materials with cooling effect. And several sock types with higher compression for a more stabilising effect. The Achilles sock is their latest medical product. This special running sock helps during the later stage of rehabilitation of injuries such as: achillodynia, tendinopathy, or paratendinopathy. They are anatomically engineered with an integrated 3D silicone dimpled area just above the edge of the shoe, which massages the tissue around the Achilles tendons to reduce symptoms.
I hope this product review is useful to you. If you decide to purchase new running socks, I would really recommend to consider Falke. Long lasting, good quality! If you have any questions, please feel free to contact me at an*******@mo*********.com or leave a comment below and I will get back to you.
---
More Fun 2 Run Overall Rating: