Running socks come in a huge variety of materials, types, and quality. To keep our feet protected and comfortable during our runs, a nice pair is a must-have for every athlete. It will help us stay focused on the run, without any distractions or interruptions due to discomfort to our feet and toes.
The most popular running sock
According to almost 16,000 positive reviews on Amazon, Danish Endurance running socks are the most loved ones. That's why I decided to give them a try myself.  I've worn them for the last five runs, and I can only agree! They feel super comfortable and they do what they promise. My Danish Endurance Running socks (quarter shaft) offer me the protection and comfort where I need them. I use the quarter height, but for the summer I will get the low-cut socks as well.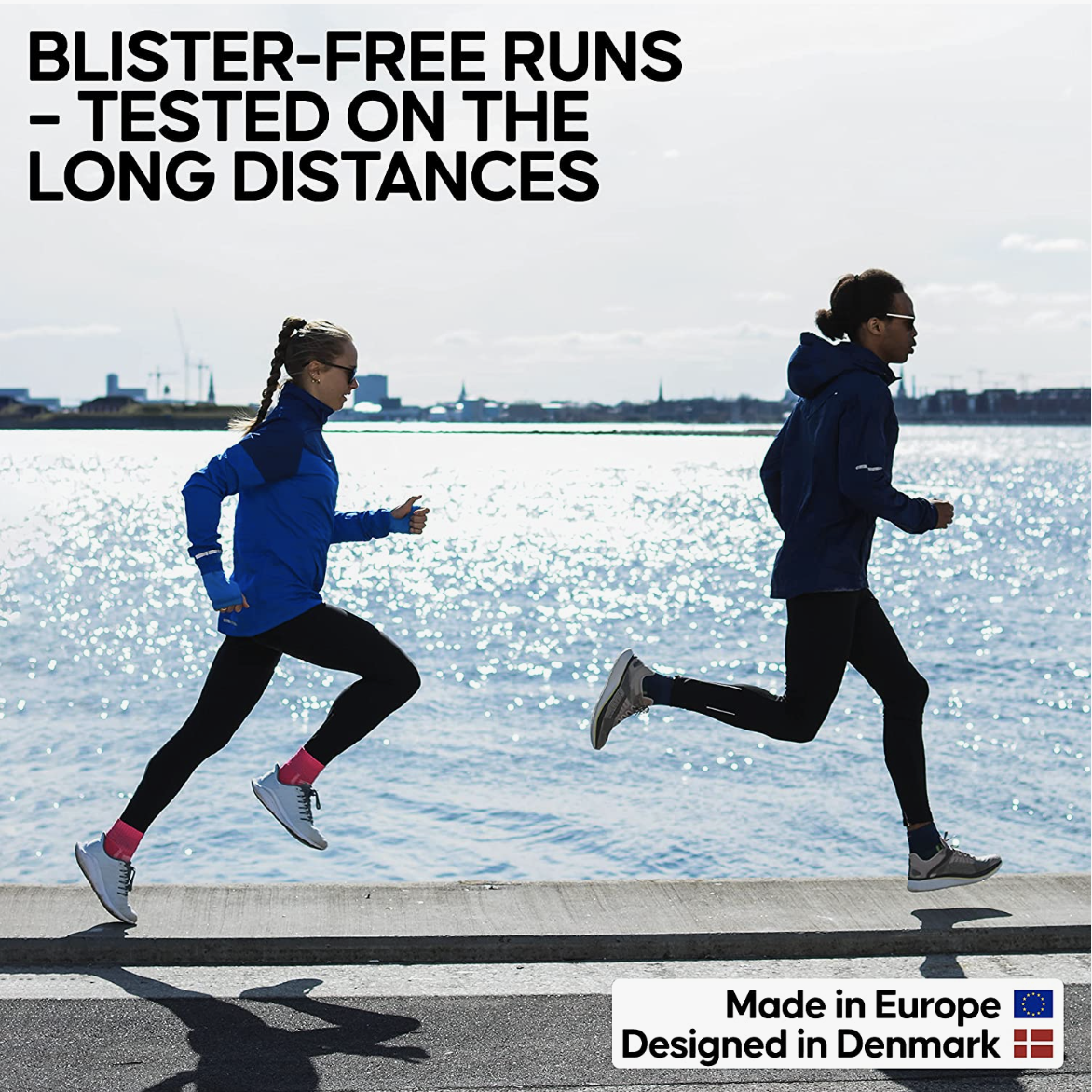 Features & Benefits of Danish Endurance Running Socks
BLISTER-FREE: The non-slip formula protects against blisters while running.
BREATHABLE & MOIST WICKING MATERIALS:  The materials are breathable, light, and sweat-repellent properties to ensure fresh and dry feet. (65% polypropylene, 33% polyamide, 2% elastane, and OEKO-TEX standard 100 certified, free from harmful substances).
RUNNING COMFORT: The comfortable arch compression and cushioning are designed to prevent tired feet. They are perfect for long-distance runs.
VARIETY OF TYPES: On Amazon, Danish Endurance running socks are offered in a range of types and materials for men and women. They come in several shaft heights, colors, and thicknesses of padding.
MADE IN EUROPE:  Danish Endurance running socks were designed and tested in collaboration with Danish Olympic Runner Stina Troest. They are fairly produced in Portugal.
HOLE-FREE GUARANTEE: Nice extra feature! Danish Endurance running socks have a hole-free guarantee. In case you discover a hole in your sock in the first year after buying them, just contact their customer service center and you'll get a new pair for free!
MoreFun2Run rates Danish Endurance running socks 5 stars!
My Danish Endurance running socks feel very comfortable, stay in place, don't cause any blisters, and keep my feet dry.  Given their anatomic shape, the quality of the materials, and all the benefits that I mentioned above I am super positive about them.
More Fun 2 Run Overall Rating:
I hope this product review is useful to you. Please let me know if you have any questions. Feel free to contact me by E-MAIL or leave a comment below.