For most of us runners pouring rain and cold winds aren't the most favourite weather conditions. Wet clothes, soggy shoes and chafing don't make for the most enjoyable runs. But if the weather was the decision maker in our training routines, some people would rarely ever get to run outside. There's actually a benefit to running in the rain: It keeps you cooler.  And this will lower your heart beat throughout the workout, which means you can run longer or train more intensive. So be aware that training in the rain will make you a stronger athlete.  Better not to feel (less) negative about it. Some people even describe it as fun to run in the rain.
Be prepared to embrace autumn runs! Here are my best tips on running in the rain.
Change your mindset
Of course you will need to develop some extra mental toughness. Remember you're not made of salt so you won't dissolve in the rain. Being active in less than perfect conditions will make you much stronger. Shift your mind from the weather to your run and the results. Think of rain as another minor obstacle to get stronger!
Accept that you're going to get wet
Yes, you're going to get wet if you go for a run outside when it's raining. Own it. A rain jacket will protect you from the rain and the wind, but it is also going to make your body heat stay inside. It might make you extra sweaty. Therefor make sure you layer correctly to ensure you are warm enough but not trapping in heat.
Wear Smart Layers 
If temperature is still mild and you're going with shorts, it's a good idea to wear some compression shorts underneath to prevent chafing when getting wet. If it's getting colder and windier outside, wear a wind shell made of a waterproof material.

A good top layer is essential when it's getting chilly outside as the rain can make you even colder. Although it won't keep you completely dry, the shell does a good job of keeping your core temperature up, holding in your body heat.
Never wear cotton
Cotton absorbs rain water, which means that all that water and create an uncomfortable soggy experience. You will be more prone to chafing because of the wet and cold fabric that sticks to your skin. And you'll be more likely to feel chill. Technical wool is a much better alternative because it doesn't feel cold and soggy when wet. Especially materials like merino wool or polyester have thermal properties (even when wet), which makes them a warmer and better fabric choice for running in the rain.
The right socks
In one of my previous articles  (Running and Blisters)  I already wrote about the importance of good quality running socks. Cotton socks are an absolute no-go for running in the rain! Socks made of synthetic fibres instead of cotton, are highly recommended, because they lead moisture away from the skin. Find socks with a smooth surface and no seams, like for example Wright Socks or .
Running socks are anatomically shaped, which helps to prevent the sock from wrinkling and causing friction. Some runners wear double layered socks or sometimes two pairs of socks, because this causes friction between the socks and less between the sock and the skin. In that case, make sure your shoe size still allows you to have enough room for toe/foot movement. Good socks are really worth the investment!
Check your shoe soles
In order not to slide (and fall) during your run in the rain, the bottom of your running shoes should have grooves on their soles that are deeper than one millimeter. They allow water to run through them and also help the shoes get a better grip on the surface.
Waterproof shoes or not?
If you want to keep your feet drier, you might want to wear shoes that contain a waterproof fabric like Gore-Tex. Most running shoes feature mesh to let your feet breathe, and those shoes are not waterproof. If your are a road runner waterproof shoes seem like an obvious choice for a run in the rain as a waterproof shoe can go a long way in keeping your feet dry. But if you're a trail runner, you're probably not better off wearing waterproof shoes. You'll more than likely step into giant puddles or small creeks, which will lead water into your shoes. That water inside your waterproof shoe won't find a way out.
Get some lubricants
Think about adding some lubricant to areas like where your socks end on your ankles, under your armpits, and on your bra straps. Nothing ends a run quicker than blisters or raw skin. Use a moisturizing cream to keep the skin smooth and hydrated. Before running, you could apply some Vaseline on problem areas. Don't overdo it with the grease on your feet, as too much lubricants can allow your foot to slide in your shoes
Put on a cap
Hats or caps are very helpful to keep some rain out of your eyes, making it easier to see, especially if you wear contacts.
Seal your electronics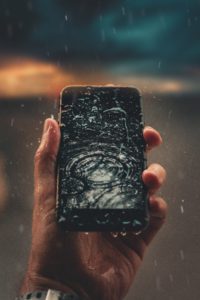 To keep your phone or other electronics safe while running in the rain, wear workout gear that has inside pockets for your devices. But in pouring rain those pockets might not keep electronics completely dry, you might also consider waterproof case or simply in a plastic Ziploc bag.
Be visible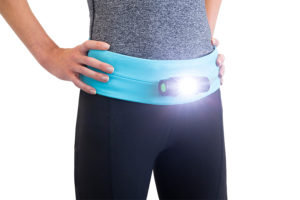 When it's raining, it gets darker and more difficult for drivers to see you. The wet and slippery roads make it hard for vehicles to stop quickly. Wear neon sportswear or items with reflective patches or LED lights. I can highly recommend the multifunctional Flipbelt.
Modify your running speed and form
A rainy-day run is probably not the best time to work on sprint intervals. That kind of training on a slippery road can put you at higher risk for injury. You'd better change your schedule and work on endurance instead as the rain provides more resistance.
Also, modify your stride length on a wet road. Taking quicker, shorter strides than you are used to will reduce the amount of time your feet touch the slippery surface. This decreases the risk of wiping out.  Finally, watch out for the deeper puddles to avoid injuries.
Treadmill instead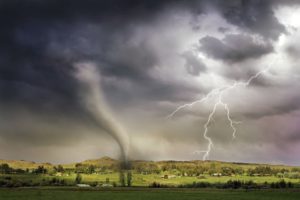 When it's thunderstorm with lightning it's better to stay inside. But also when it's very windy and rainy, as your body can cool down really quickly. And although running against the resistance of the wind can be fun and challenging for some, you shouldn't attempt the run if the wind gusts are becoming unsafe.
In these cases it's probably best to use a treadmill instead, do some strengthening exercises in the gym or wait until the storm clears.
I hope you like this article and finds my tips for running in the rain useful. Learn to embrace autumn runs and don't let the rain get your down! Just remember: if you'll wait for the perfect conditions, you will never get anything done! Please leave your questions, tips or comments below or send me an e-mail at An*******@mo*********.com and I will get back to you.
---