With the current COVID-19 recommendations for social distancing and lock-downs, some of us may worry that this home-stay situation will cause weight gain or deterioration of athletic performance. Many others, on the other hand, don't even think of exercising at all, as they're having a hard enough time managing all the changes to their daily lives and routines. Luckily, many creative efforts have been made by people and businesses in the field of fitness in order to pull us through these times. Going for an outdoor run with your friends or going to the gym might not be possible right now, but we can still do effective and fun workouts – at home! Keeping up your fitness will help you resume your outdoor running routines again when life gets back to normal.
Get out of your chairs!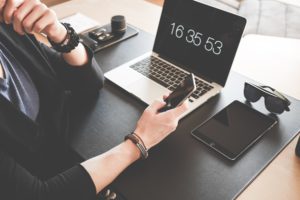 Since the outbreak of the Corona virus, most people find themselves in a home bound situation. We work from home, follow updates of news sites and kids practice e-learning programmes from school. And to wind off we like to watch Netflix. Overall we use our electronic devices much more than we normally would. Most of the day our bodies are in a static and seated position. As a result of this long-term-home-stay, many of us may not have enough physical activity. We really need to get out of our chairs and move our body's much more.
Unless you are ill…Get started now!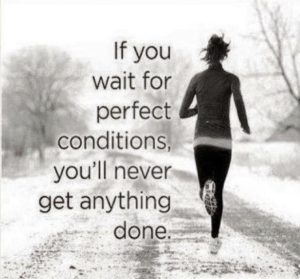 If you have any health concerns or experience COVID-19 symptoms (such as fever, cough or shortness of breath), please stay at home, remain calm and contact your health provider, to advise you what's best to do next. In case of illness, you 'd better stick with bed rest until the symptoms subside. Before you resume your exercises, always listen to your body and don't force yourself. Health recovery is more important than fitness routines.
If there are no symptoms of illness, just get started!  Reducing "sitting time" is most important these days. Lack of movement has a negative impact on your health and it increases the risk of metabolic problems. In a lock-down situation, when outdoor running is a no-go and you are basically at home all the time, you'll need to find a new way of being physically active. You need to be creative in time, space and training form.
For basic health benefits, it is recommendable to perform at least 30 minutes per day moderate physical activity.
Choosing workouts, suitable for your home situation
Every form of exercise is good for you. I would recommend to find at-home workouts that help you build stronger runners' legs and core muscles, to prepare yourself when outdoor running is allowed again. Choose apps that really appeal to you too. The training should be effective, but it should be fun too! That will make it much easier to repeat regularly.
Most exercises just require room to roll-out a fitness mat, which should be enough to perform floor exercise. Also consider kids and other members of your household being at home all day.
My favourite at-home fitness apps
There are many 30-Days-Challenges to be found in the App or Play store. You can select them by specific muscle groups or choose a certain type of exercise: triceps, abs, cardio, squats, push-ups, planking. I find these challenges very motivating, because the daily goals are simple, don't take much time and my reward on completing them gives me a sense of achievement, which motivates me to do the next day's challenge again.
Being a runner myself, I like to do both cardio and strengthening exercises for leg and core muscle and I practice runners yoga and stretches for more flexibility. I can recommend the following at-home fitness apps that I use: Asics Studio – Nike Training – Sweat – Sworkit (plus Sworkit Kids) – Freeletics – Daily Legs – Ab Workout – Abs & Core – Daily Yoga. Many apps offer a free trial period, which gives you the chance to switch to another one.
FREE workout videos on Youtube and Facebook
You can find a lot of FREE workout videos on social media.
I really enjoy PopSugar Fitness on Facebook, as their coaches are so enthusiastic and motivating. Each exercise can be done at different workout levels: easy, intermediate and advanced. On YouTube you'll find many other options too. Check out the next two screen shots of my search for "home workouts" or "home workouts for runners".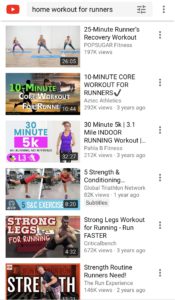 It may take a bit of time to find the at-home workout that is "100% perfect" for you. Sometimes you may not like the coach's style or the music that they're playing during the workouts, but as there are so many alternatives, I am sure you will find one that will work for you too.
Family & kids workouts on Youtube & Facebook
Having your kids at home all day who could use some physical activity at the end of their home-schooling day too? Choose a fun workout that you and the kids could do together!
My family uses "Just Dance 2020" for Nintendo Switch.  It is a great dancing game which the kids can do alone, against one of your family members or against other game participants all over the world (if your system is Internet connected ).  Just Dance also offers videos on YouTube.
Other family workouts on Facebook or YouTube :
Warm-up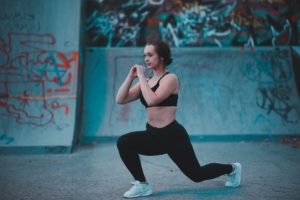 No matter which at-home workout you'll choose, you should always start with a warm up to get your muscles activated, blood circulated and joints lubricated and to get your heart rate a bit up. A warm-up will prepare your body for the upcoming exercises and it will also help prevent injuries.
This all doesn't have to take too long, just five to six minutes should be enough. Most of the fitness apps have a warm-up included in the training sessions, but if not, you might want to try these:
Get your heartbeat up: run on the spot (start easy, finish with some high knees and heel kicks) and do some jumping jacks.
Legs: do some body weight squats and a few lunges.
Hips: a few hip rotations and legs swings on both sides.
Loosen up waist and spine: Stand up straight, place both hands on your hips and make a few circular movements with your hips and repeat in the other direction. Then: hold both hands together in front of your chest and twist your upper body horizontally to both sides.
Core: stand up straight, bend your body forward and reach to the floor. Then bend back and reach behind you, arms stretched, pointing towards the sky. Repeat a few times.
Shoulders & Arms: rotate your arms a few times forward and backward. Perform some boxing moves in the air (punches and upper cuts).
Neck: gently rotate your head a few times in both directions.
Wrists: rotate your hands in both directions.
Hands: alternate spreading your fingers widely and making a tight fist.
Re-hydrate, Refuel & Recover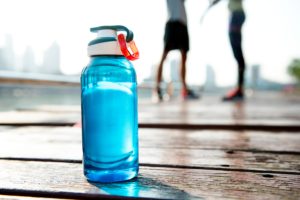 After each workout, drink enough water to rehydrate. Refuel your body by having a protein rich, post-workout snack, to help repair your muscle tissue and to restock the used up energy. A bowl of Greek yogurt with fresh fruit or a slice of toast with avocado and eggs are good choices. Rehydration and refuelling will help your body recover and get ready for your next workout.
Tight schedule? Try this quick 7-minutes full body workout 
If you don't have much time or you don't feel like searching the Internet for fitness apps or workout videos, please check out this seven-minutes full-body-workout. The exercises don't require a lot of room and you don't need gym equipment other than a fitness mat and a stable chair. Also have a towel nearby to wipe yourself and a water bottle for hydration. And maybe a phone or tablet to play some motivating music. The workout contains twelve exercises to improve both cardio fitness and strength. It is a quite intensive training, and you should not push yourself to the max in the beginning. Don't forget to warm up before you start. If you'll do this 7-minute workout every day, it will definitely get easier after a while. Good luck!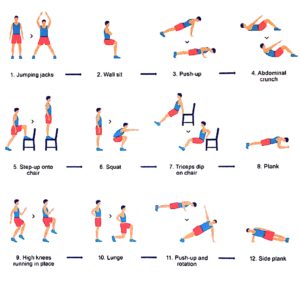 All exercises will be performed in 20 – 30 seconds at a time.
Take 10 seconds rest between each exercise.
Scale the intensity on 80% of your maximum training capacity.
Do the exercises in the correct order ( number 1 to 12) to gradually build up the load in your muscles.
Play some inspiring music to keep yourself motivated. And keep in mind: Its just 7 minutes! You can do this!
After you've finished your workout: enjoy the sensation of achievement, take a deep breath and cool down. Well done!
And….Repeat tomorrow!
We may not be in control of the Coronavirus situation, but we can be in control of our daily habits
The COVID-19 pandemic will have an impact on everybody's lives and it might take a while before life goes back to "normal" again. Researchers are doing the best they can, to come with a vaccine and a drug to beat the Corona virus. Meanwhile we may not be in control of the situation, but we can be in control of our daily habits. Let's do what's within our power: We should protect ourselves and others by social distancing, washing our hands and not touching our faces. And we can take good care of our bodies and mind in order to strengthen ourselves.
Regular physical activity is one of the things we can decide to do immediately. Thanks to the many online options, we are ably to keep up our fitness, even in the home-bound situation that many of us are in right now. Exercise helps reduce emotional stress, improves metabolism and strengthens your immune system which is important to fight illness.
I hope this article will help you find the at-home workout that suits your personal situation best. Let me know how you keep up your fitness while in quarantine. Do you have additional recommendations or tips? Or do you have any questions about this topic? Please send me an e-mail at an*******@mo*********.com or leave a comment below. If you have any friends or family members that would like to stay active during COVID-19 quarantine, please feel free to share this article. Thank you!
---