You've been running some 5K runs for a while, and now you feel ready to push yourself to a long-distance run. Practical tips and our MOREFUN2RUN 5-10km training schedule will help you build strength and gradually develop endurance for a 10K run!
Running Goal
Being ambitious is great, but be aware that doubling up on distance takes proper preparation. In order to make things happen, it is crucial to have a clear idea of WHY you run initially and know what you are aiming for. Always start with the end in mind! In other words: set a running goal that is specific, measurable, achievable, realistic, and timely (SMART). For example: "In 8 weeks from today I want to be able to run 10km non-stop within 60 minutes". Then set weekly training-targets and build your mileage gradually. Adding about 10-15% to your total weekly running distance is recommendable to build up safely and prevent injuries.

Key elements to the training
The frequency, intensity, and duration of your running sessions will determine your progress. Gradually increasing these key elements will improve your health and fitness. Going for a run every single day will easily exhaust your body and it doesn't necessarily lead to the best results. Sometimes less is more.

Training Plan 
Your goal is to run 10km (6.2 miles) continuously. To make the most of the MOREFUN2RUN 5-10km training schedule, you should be able to run 5km (3 miles) in less than 40 minutes to start. The training schedule will step-by-step guide you from 5 to 10K non-stop running in 8 weeks.
If you're new to running (or you haven't been running for a while), you'd better build to a steady 5km run first.  Have a look at our 0-5km training schedule.
Planning
In our 5-10k training plan, we have scheduled 3 running sessions per week, which will help you make good progress. Sessions are scheduled on Tuesday, Thursday, and Saturday, but if your personal agenda requires other days, just shift. As long as you'll keep "rest days" in between your running sessions as your body will need enough time to recover and minimize the risk of injury.
Rest Days – Active recovery
On the scheduled "rest days", it's recommended to stay relatively active to promote recovery. Try to do a 30 minutes easy walk or do a workout in the gym which involves strengthening of the core and lower back (while giving your legs a break). Another good one is Runners Yoga for better flexibility and balance.
Your personal Base Pace
In order to monitor your progress throughout the weeks of training, it's recommended to know where you are when you start. What is your average pace on a 5k run right now? This is the starting point for your training schedule. Whilst speed is often described as km per hour or miles per hour,  the Pace is usually described as the number of minutes it takes to cover one mile of running.  (or minutes/km).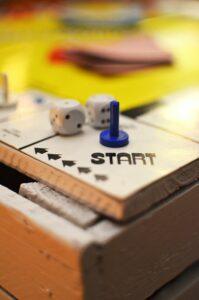 To find out your Personal Base Pace, go for 30 minutes run at an "easy speed level" and measure which distance you are able to cover (take your smartphone to keep track of the time and distance with GPS). At "easy speed" you can still carry on a conversation (in full sentences), without gasping for air. Don't go too slow though: in case you are able to sing continuously during this run, you need to increase your pace a little.
When you've finished your run,  double the distance that you've covered in 30 minutes to convert it in distance (km or miles) per hour. Now use the running pace conversion chart to find your base pace. You will usually run at your base pace during the "long-distance " sessions in the training schedule. Over time your personal base-pace will improve! 
Training intensity – Relative Perceived Exertion
Train too hard, and you might burn out or get injured. Train too easy and you may not make the most of your potential. How you experience a training intensity is very personal and will depend on your endurance and overall fitness level.
Using a Relative Perceived Exertion (RPE) scale may give you a better idea of how fast you should try to run during the several training sessions.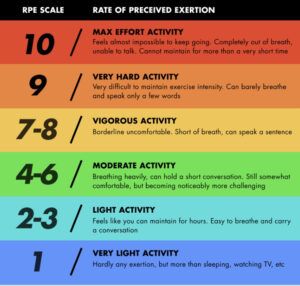 Different types of runs
Easy walk: a stroll in the park (Borg RPE level 1)
Brisk walk: a stronger walking pace while firmly using your arms as well. You are not jogging yet. (Borg RPE level 2)
Easy run: is at an easy, long-distance pace. You could still hold a conversation while running for an hour or longer. (Borg RPE level 3-4)
Tempo run: Your heartbeat will rise, breathing will become a bit faster, and keeping up a conversation is not easy. You could maintain a tempo run at the same pace for at least 60 min. (Borg RPE level 5-6)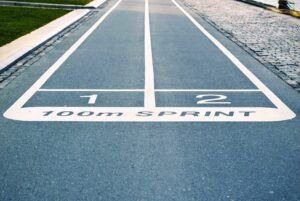 Fast run: your speed is further up, your heartbeat is higher and breathing is faster. This pace is usually for longer intervals. (Borg RPE level 7-8)
Sprint: full intensity, full speed at shorter distances. Your heartbeat will go up to a maximum, breathing will be very heavy, you are gasping for air. (Borg RPE level 9-10)
Interval: you will be alternating high and low intensities. You increase your pace for a speed interval (sprint or fast run) and then slow down for a breath recovery interval (walk or dribble). Intervals will increase your level of fitness faster than pretty much any other type of running

Running Goals & Progress
The goal of this training plan is to achieve your best 10K running time within 8 weeks with 3 days per week of training. Your fitness levels will progress as your training progresses. And over time, you'll be able to train more often, longer duration without stopping or walking, and your average pace will improve.
Log your runs
Logging your running data will help you monitor your progress which is very useful when preparing for a race. The are many digital platforms and apps to visualize and log your runs and to monitor your progress. Most runners watches will offer their own software as well. A well-known running platform is Strava.com, where you can also share your achievements and running locations with other athletes.
Of course, you could also simply write it down. Click here for our: MoreFun2Run Running Log
GPS runners watch – a useful gadget
Although many runners just go with the flow and run by feel, collecting runners data while following a training plan can be very useful.  GPS runners or sports watches, like for example  Apple Watch 5, a  Polar Vantage Pro, a  Garmin Forerunner 935 (or another one), will collect running information such as distance, time, pace, and heart rate. Insights in these running data can help monitor your progress towards your running goal. For training purposes, it is very practical to program your intervals, and use the timer. You could also use your smartphone.
Training adjustments
Ideally, you'll follow the schedule week-by-week and complete the 5-10k program within 8 weeks. But if you feel you need a greater challenge, skip ahead one week. But don't rush, because this may increase the risk of injury. Give your body a chance to adjust to the extra load. If you feel the plan's moving too fast, you can repeat a week until you're ready to progress. Sometimes having your tired legs and feet massaged might get you going again the next day.
Warm-up, Cooldown & Stretches
At the start of each running session always perform a warm-up. This could be a brisk walk for about 5 minutes, a bit of dribbling, a set of squats and jumping Jack's, and some stretches will reduce the risk of injuries. After your workout walk for another 5 minutes to cool down, restore your breath, and allow your heart rate to drop again. Do some post-run stretches as well.
Next challenge?
Now you've built power and endurance to perform a non-stop 10K, you may want to take on a new running challenge. Will a faster PR be your next goal or maybe a half-marathon? As you continue with your training, remember not to push your self too hard too soon. The idea is to get faster and stronger, gradually and steadily. Be patient and you will reach your running goals. I wish you More Fun 2 Run: Stay healthy, and injury-free!
I hope the tips in this article and our MOREFUN2RUN 5-10km training schedule were helpful to reach your 10k goal! If you share this post on your social media: Thanks a lot! If you have any questions, please send me an e-mail at an*******@mo*********.com or leave your comment below and I will get back to you.