Hi there and welcome!
MoreFun2Run is about happy and healthy running, without any issues or complaints.
I'm very pleased to meet you. Let me first  tell you a bit more about my own running background and why I started this website.
Since childhood, I have always been practicing several sports but over the last couple of years I've developed a true passion for running in particular. Which started with an easy jog (just for fun), grew into a more intensive and competitive running hobby….
From a casual run in the park, I went to daily training within a few months. I guess I caught the runners fever! I bought a GPS watch with heart rate monitor, I followed training schedules to improve duration, speed, overall fitness and strength. And about a year later I signed up for  my first half-marathon in Noosa, QLD in Australia! It was a fantastic experience.
Very proud of my achievement, but I got 'hungry for more'! But as we all make mistakes in life, so did I… a few months later I got over trained and at least one-an-a-half year of injuries and pains followed. "A few months of 100% rest and an absolute minimum of walking, followed by physiotherapy and a rehabilitation programme", was the doctor's advice. I thought I was going crazy, not being able to run, so I was desperately searching for anything that would help me to speed up the recovery process!
Unfortunately I was living in a developing country at that time, where access to medical help was hardly available, so I turned to Google for information and help. As patience is not exactly my strongest competence, you can imagine the amount of hours I spent online to do research on all possible home remedies, professional treatments, gadgets and accessories that I could use to reduce pain, minimise the issues and speed up the recovery.
A little story about my feet
I guess every foot is unique, but mine are extremely wide and have an enormous high arch. Therefor I've always had problems with finding well fitting shoes.
I discovered I didn't wear the right shoes for me: they had insufficient support and shock absorption. The intensive training on those runners caused way too much stress on my feet.
And so I gradually developed a very stubborn plantar fasciitis and later on a heel bone stress fracture, which both caused severe heel and mid foot pains. For months, I could hardly walk. I had to travel abroad to see a podiatrist, had customised orthotics made, bought new runners, had cortisone injections, tried massages, dry needling and contrast hydrotherapy, practiced foot strengthening and stretching exercises, tried out socks, sleeves and braces, and so on. I found an online physiotherapist that helped me a lot with specific foot exercises, stretches and other home treatments.
All in all it took me over a year to recover. But I'm running again. Now I am better prepared though. I am not ready for a marathon yet, but I'm working on it. I'm so relieved.
Your feet are the base of every stride
Worldwide there are millions of runners and many of them suffer from all kinds of foot problems. During my researches I learned much about runners feet and I would like to share my insights with you.
In quite a few of my posts I will be discussing the causes of foot problems, the recovery process, pain relief and prevention. Products that I've read about and/or used, treatments, gadgets that are useful. But I will also blog about other typical runners issues that many of you might recognise. Anything that could help you, runners!
Happy running – more fun 2 run
Happy running, without complaints, pains or other runners issues, is basically what this site is all about. I guess that's the aim for every runner. Morefun2run.com will describe my personal running experiences and provide tips to prevent or minimise all kinds of runners problems.
If you are suffering from a specific injury or typical runners issue, a good overview of things to do and what to avoid is just what a runner needs. Always consult a doctor or medical (sport) specialist. In my posts I will share with you my personal stories and findings. Bt please be aware that I am not a medical specialist; I write from an (ex-injured) hobby-runner's point of view.
Issue free running will lead to better results and most importantly more enjoyable runs! And that's what MoreFun2Run is all about:  happy & healthy running, without complaints or runners issues. I will share my personal running experiences and provide tips to prevent or minimise all kinds of runners problems. Hope they will be helpful for your runs too!
Please have a look around my website and If you have any questions, feel free to send me an e-mail (angelique@morefun2run.com) or leave a comment below and I will be more than happy to help you out.
All the best,
Angelique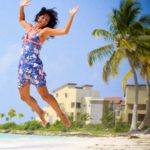 www.MoreFun2Run.com